Lewis Washington Wimberly
Lewis Washington Wimberly (b. Apr. 23, 1833, d. Sep. 7, 1895) was the son of Elijah Wimberly and Maria Holland.

Lewis Washington Wimberly was born in Field Township, Jefferson County, IL and moved to California in the 1850-1860 decade. He was married ca. 1861 at Placerville, CA to Elizabeth Fields, the daughter of Jeremiah Fields and Mary J. Demson of Marion County, IL. Lewis died at the home of his son-in-law, Neil McLean, in Independence, Inyo Co., CA. He was buried in the Masonic Cemetery in Independence.

Children of Lewis Washington Wimberly and Elizabeth Fields:
Annie Laura Wimberly (b. Feb. 23, 1862, d. Jan. 16, 1944) m. Neil McLean
Robert Lee Wimberly (b. Oct. 1, 1863, d. Aug. 25, 1905) m. Martha Bennett
Lewis was a resident of Keeler, CA for many years before his death. He had many warm friends in the southern end of the valley. He had been ailing for a long time before his death and his death was not unexpected. Lewis was 61 years, 8 months and 9 days old when he died.

In 1860, Lewis was a resident of Mud Springs, El Dorado Co, CA. He was a miner.

In the 1875 State Census of Nevada, there was the following listing:
Lewis W. Wimberly, 42 years old
Annie Wimberly, 13 years old
Robert L. Wimberly, 11 years old
The Washoe County Newspaper Index has an entry for Louis W. Wimberly as a member of the Washoe County Grand Jury (Nevada State Journal, January 6, 1876 3.3) and has one listing for Robert Wimberly, Roll of Honor, Huffaker School.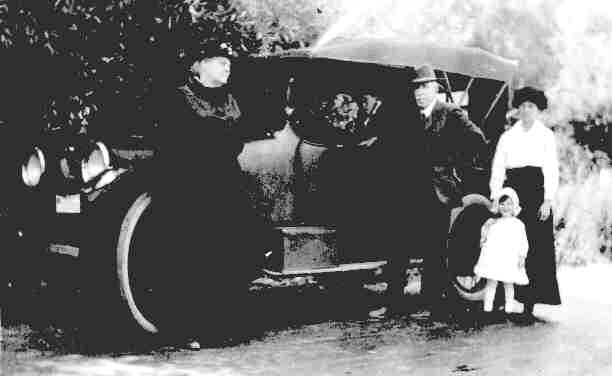 The above picture was made in about 1914-1916. Annie Laura Wimberly McLean, daughter of Lewis Washington Wimberly, is at the left, Winsor Wimberly McLean, son of Laura and Neil, is inside the automobile, Neil McLean I is standing at the side of the automobile, and an unidentified woman & child are at the right. (Photo courtesy of Neil McLean II)
---
This page was last updated on: February 6, 1999