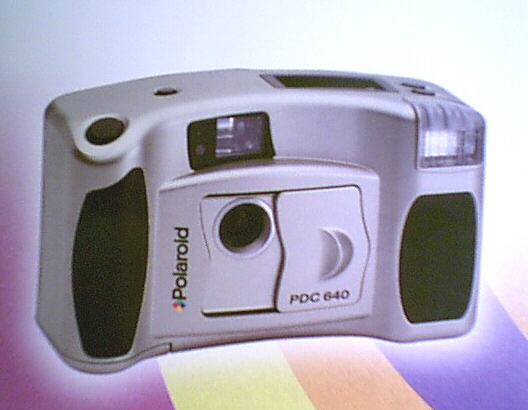 Polaroid PDC 640 Digital Camera
Digital Cameras are the new kid on the photography block and because of their unique qualities, have taken genealogy research by storm. Early digital cameras were very expensive and lacked the sharpness and color richness we are use to seeing with film cameras. Progress, however, has been swift. Sharpness and true-color are now the norm, especially with the megapixel cameras, and the prices keep slowly coming down. Armed with little more than a digital camera and laptop computer, a genealogist can:
Copy historic, original pictures with the micro lens feature (as close as 6"),
Copy original documents with the mico lens feature, and
Take pictures of decendants and immediately load their pictures into a genealogy program like FTM.

Digital Camera Secrets
Here are a few of the secrets of digital photography that you don't get by reading reviews on camera products and on how great a camera is or isn't. The following topics are required reading for anyone contemplating purchasing a digital camera.
Resolution: If you are looking for a digital camera to use for taking web pictures or to use those pictures in a digital publication, then a 640x480 resolution camera will do fine. A good example of a 640x480 camera is the Polaroid PDC640 camera shown above. This camera was originally priced two years ago at about $399 but has been recently reduced to $199.99 at Wal-Mart stores throughout the USA. By the end of the year, I predict 640x480 resolution cameras will be priced close to $100.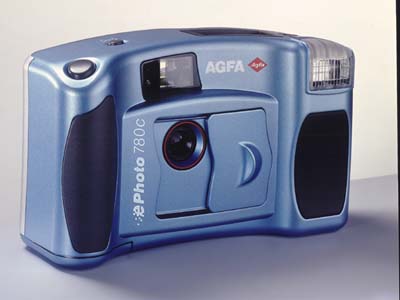 Agfa ePhoto 780c Digital Camera
Enhanced Resolution: Pictured above is an identical digital camera from the same manufacturer but marketed by Agfa. It claims to have 1024x768 resolution but it's really a 640x480 resolution camera that uses image enhancement called PhotoGenie™ technology to produce a 1024x768 resolution image. Agfa sells the ePhoto 780c digital cameras for $199.95. It's available at most national computer mail-order outlets.
Picture Transfer: Both cameras do a good job. You take your pictures, download the images to your computer using a serial port cable and special software that is supplied (I had trouble getting the computer to recognize the camera and had to load the software in another computer) and you can then utilize the images as attachments to an e-mail, upload to a web page, or print them on an inkjet printer. Polaroid uses a proprietary software called "PhotoMax" which is used to download and enhance the digital image. I suspect the software is similar to Agfa's "PhotoGenie" since the pictures have better quality than a standard 640x480 resolution image. PhotoMax kinda "sucks" since it has a black background and a stupid-looking bird flying down and landing on a target in the opening few seconds. It was designed for kids and the general public, not professionals. However, I tried to use Adobe Photoshop to download my pictures using the "twain" interface and the pictures were horrible. So use the software that comes with the camera, no matter how bad it looks.
Floppy Disk Transfer: If you have problems with the serial cable transfer, you can invest in a $75.00 piece of hardware genius (FlashPath) which allows you to remove the Smartmedia Memory Card (the camera "film") from the camera, insert it into what looks like a floppy disk, put the floppy disk into your 3-1/2" floppy drive, and then upload the pictures using the special software.
Picture Edit: One of the nice features of a digital camera is the ability to immediately edit your pictures. If you don't like what you see (on the small 1.8" LDC viewfinder) you can erase the picture and start over. You never wear out the "film" and as long as you have a computer or some other type of memory "keeper" to download your images, you can never run out of "film."
Sharpness: The sharpness of a picture is defined as how many dots-per-inch can either be printed or shown on a monitor and the size of those dots. The smaller the dots, the sharper the picture. The pictures you get back from your local film photo finisher has about 4,000 dots per inch or 4,000 dpi. The picture or advertisement in a slick-finish magazine has about 240 dpi. An old-time

(before offset presses) newspaper photo has about 75 or 100 dpi. Book pictures (the kind you find on slick paper in the center of a book) are generally 150 dpi. For a comparison, laser printers are now capable of printing 600 dpi or 1200 dpi.So, you can see most pictures used in printed publications are in the 120 dpi to 175 dpi range. The more dpi you print, the better quality paper you have to use. It is expensive to print a picture in the 240 dpi range on a 4-color printing press.

Computer Monitors: A computer monitor generally can display about 72 dpi so any dpi's greater than 72 is a waste of resources. Besides, the more dpi's you have, the longer it takes to download a picture from the server. A 640x480 resolution digital camera will produce an image of approximately 5 inches by 4 inches with about 144 dpi. Sufficient for a picture on the web or to share with aunt Maude in an e-mail but not good enough to enlarge or print out to an 8"x10" picture. (or even a 5" x 7" picture)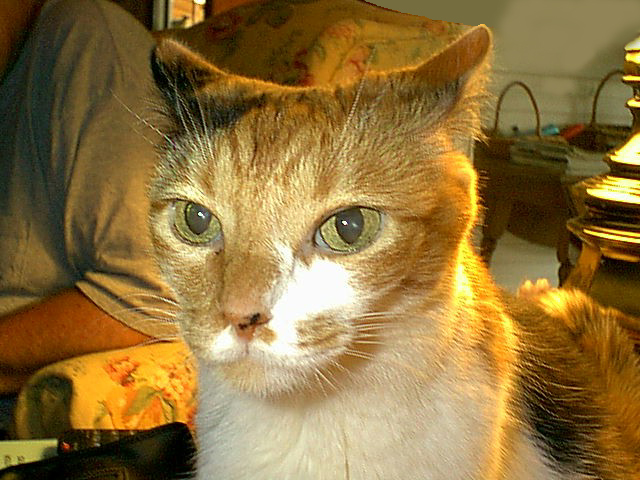 Sample Digital Picture: This picture of our Calico cat named Spot was taken using the Polaroid PDC640 in a 640x480 resolution mode with moderate compression. You can count the whiskers on her face. As you can see, it is indeed suitable for use in just about any application. (Spot died in October 2000 at the age of 15 years. She was very much loved in the Wimberly household)
Megapixels: For photo-finish type printed larger photos, you will need to graduate to the over $400 class of cameras that deal with megapixels (over 1,000,000 pixels). A 640x480 camera will generate about 310,000 pixels and a 1600x1200 resolution camera about 2,000,000 pixels. These megapixel babies will make any size digital photo look like it just came from the film photo finisher. When you get over the 1meg pixel threshold, you are getting serious about digital photography. Your pocketbook will reflect that seriousness.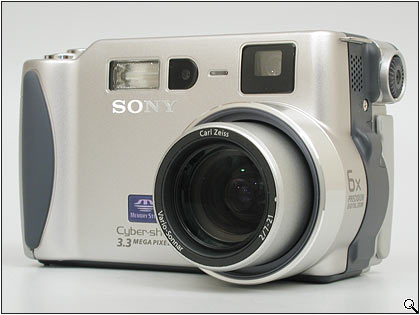 Sony DSC-S70 3.3 Megapix Camera
Text Features: Sony has added a feature in their DSC-S70 camera that allows you to take a picture of a news story, page in a book, or a black & white picture in a TIFF text mode. The image is sharper than in JPEG and it is only in black & white. With this camera, you can focus down to inches of the object. It is a great value but a little on the pricey side - $610 to $699. I am impressed with the pictures this camera makes. It has a Carl Zeiss lens (designed by Germans, made by the Japanese), and the pictures are simply outstanding. I have been able to make 11"x17" prints from the jpeg formats and the detail is unmatched even by conven- tional photo finishing
Good-by Kodak Film: I was a photographer in my early life and enjoyed working with chemicals, my enlarger and setting the focus, iris, and speed of my shutter when I took a picture. Those days are gone forever and so is the sticky-gooey mess of the early Polaroid instant pictures. Digital photography is here to stay - permanently! Jump on the digital bandwagon when you find a camera in your price range - which I predict will be real soon. Remember the rules - 640x480 resolution for Internet (web) pictures, 1280x1024 resolution for 5"x7" film quality pictures, and 1600x1200 resolution for 8"x10" film quality pictures.
Digital Photos Printing Services: My wife and I took this same picture of Spot over to the Walgreens Drug Store in Carbondale, IL and used their digital photography service to make a print. The results were horrible. Besides the $7.00 cost, which we thought was too much to spend on two 4"x 6" prints, it looked o.k. from arms length, but when you looked closely at the picture, it looked like it had black spots all over it. It looked like it had caught a bad case of the mold. We will stick to using film cameras for printed work and digital cameras for Web pictures.
Secret of Making Good Digital Pictures: The secret to getting good digital pictures is to provide the right amount of natural contrasting light. Too much artificial light will tend to wash out the details in the highlights. That can be controlled by using a special software program but why create a problem when you can eliminate it from the very beginning. Don't use black backgrounds with singlular objects - the camera tends to pick-up the dark background and gives the automatic color balance the wrong message. If you are taking a picture out-of-doors, don't let natural light fall on the subject since the Polaroid has poor color balance. Put the subject in the shade and use the electronic flash option. Also, if you are indoors and taking pictures near a window, don't let natural light mix with a flash picture. The results will be poor.
Copyright ©1999, 2000, 2001 by Thomas L. Wimberly, Marion, IL 62959. All opinions expressed by the author are his own and comments can be e-mailed to the author at: twimberly@mchsi.com